Ditch the Dial-Up: The Key to Faster Data Transmission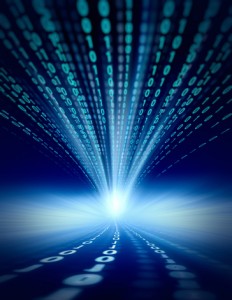 For the last several decades, physicians have had to submit ambulatory cardiac data in one of a number of tedious and antiquated ways. Even for small amounts of data — say, Event data — a dial-up connection was the rule. It's a tedious process that involves patient interaction with a physical phone line, calling a remote third-party data center, and then waiting to transmit the data through the phone. For Holter data, this method is not practical because of the sheer amount of data. For Holter data, one has to deliver the physical storage media (an SD card, a flash card, etc.) to the analysis location, physically bring the recorder containing the storage media back to that location, or utilize a third-party subscription data transmission service (like Magic Vortex) to compress, send, and manage the transmission.
Fortunately, improvements in technology allow you to avoid this cumbersome process. Now you can transmit recorder data quickly and easily over the Web using a new type of remote software from NorthEast Monitoring called Keyless REMOTE.
Setup is easy
Keyless REMOTE is a web-based, Java app version of Holter LX Analysis software that is specific to remote sites, like a physician's office. Keyless REMOTE allows you to save Holter files, set up patient information and report headers, and then send the information to your scanning service over the Web.
All you need is a computer system with Microsoft Windows XP, 7, or 8, a broadband Internet connection, Internet Explorer or Mozilla Firefox, and a USB port. The scanning service site to which the data is sent needs at least one copy of the Holter LX Analysis software (PRO or ENHANCED PLUS). Then, once the scanning service sets up your account, they'll send you the other necessary items:
Their Web address
A username and password
The URL key for the scanning service
For your first time as a remote user, you simply go to their website and log in. The software then places a shortcut on your desktop that will allow you to start Keyless REMOTE in the future without logging in to the website.
When you plug the flashcard from your patient's NEMon Holter recorder into your computer, the Keyless REMOTE software retrieves the Holter data. You can enter additional patient data as needed and then send everything to your scanning service or central office through NEMon's Keyless REMOTE website. It's that easy!
It's secure, too!
In addition to being fast and easy, Holter Remote is also secure. The software is HIPAA compliant and is designed to protect patient information. Data is encrypted on the end-user's computer (at the physician's office) and is decrypted on the analysis computer (at the scanning service).
The Web application used to transfer the data between computers has no ability to decrypt the data. The medical data abides by "encryption at rest" and any possible Web server compromise will not compromise any medical data. At no time is unencrypted PHI transmitted to or stored on the website.
You can feel confident using Keyless REMOTE, knowing that you can transmit data quickly, easily, and securely. Plus, Keyless REMOTE is available at an extremely low cost. What are you waiting for? You've got every reason to make the switch today!
Coming attractions!
The current release supports Holter data only. Upcoming releases will support transmission of Event data and a back-channel path for secure return transmission of the report file (pdf).
For more information about NorthEast Monitoring's Keyless Remote software, contact us by email at info@nemon.com, or call us at 978-461-3992 or toll-free at 866-346-5837 option 2.