High-Touch Service Helps Holter Customers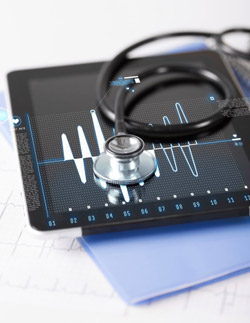 As one of NorthEast Monitoring's largest domestic channel partners and someone who's been in the Holter business for 22 years, John Ziemann has seen Holter technology evolve. Ziemann, who is president of ALBA Medical in Long Island, New York, knows that customers are paying attention not only to medical technology advancements but also to the value they're getting from their equipment investments. A focus on customer relationships and excellent customer service — qualities that mesh with NEMon's independent, customer-oriented approach — have enabled Ziemann and ALBA Medical to provide that value.
A long-term Holter perspective
Ziemann started selling Holter equipment for another NEMon distributor, and founded ALBA Medical seven years later. Ziemann's longevity in the Holter monitoring industry gives him a seasoned perspective on how both changes in Holter technology and in the industry have affected his health care professional customers.
When Ziemann started his company, many customers were using Holter monitors that weighed almost 1 pound and recorded data on cassette tapes! Ziemann has seen Holter technology progress considerably since then, to today's 3-ounce lightweight digital devices that give customers far more capability. The latest Holters provide a lot more memory to enable higher-resolution reports, longer-term monitoring, and the online transfer of monitoring data.
Though Holter technology has changed, customers still value the personal touch offered by the medical equipment providers they do business with. But that type of customer service is getting harder to come by — a byproduct of consolidation in the Holter monitoring industry, Ziemann says. "Every time there's a merger or acquisition of a Holter company, the customer suffers," says Ziemann. He points to NEMon as the exception among Holter providers. "NEMon has been independent since 1993, and they're very service-focused and a customer-friendly company."
Stellar support keeps customers happy
Ziemann acknowledges that his high-touch, "relationship" approach to his business blends well with NEMon's focus on personalized customer service and support.
"Customers recognize that NEMon is a very good company for support," Ziemann says. "NEMon doesn't play games. They want to help you out, they don't nickel and dime you by charging you to talk to them on the phone." For example, says Ziemann, NEMon Holter machines use a standard SD memory card that's widely available at budget-friendly prices, whereas some vendors require a proprietary SD card, which is expensive to replace. Ziemann also lauds NEMon's tech support maven, Stella, whom he credits as a key source for customers' satisfaction. "The feedback for NorthEast is great, and it's probably mostly due to Stella," Ziemann says. "Everybody raves about Stella!"
Scanning and veterinary Holters, too
ALBA is unique in that it not only sells Holter monitors but also provides a Holter scanning service. In the scanning process, a technician reviews the Holter output and looks for artifact (i.e., false arrhythmias that could be caused by movement, such as the patient rubbing an electrode) that the Holter analysis software cannot distinguish and filter out.
ALBA started offering the scanning service after Ziemann noticed that many customers weren't using their Holter products because they didn't have the in-house scanning capability. Cardiology offices use ALBA's scanning service when they don't have their own tech or when their tech is unavailable. "When they use our company to read, things work right," Ziemann says. "Even though they're paying a fee for the scanning, they're better off because there's no downtime."
ALBA has also expanded its Holter services to the veterinary market — in particular, breeders of Boxers and Dobermans (and even a few cats!). Those breeds are genetically predisposed to cardiomyopathy, which causes some dogs to die at only 4 years old. Ziemann explains that reputable breeders use Holter monitoring to screen dogs for premature ventricular contractions (PVCs), and then remove dogs with a high number of PVCs from their breeding programs. The dogs wear a vest over the DR200/HE monitor and seem to tolerate it well.
Where Holter is headed
Ziemann's extensive knowledge of the Holter industry gives him a good eye for trends in ambulatory cardiac monitoring. "Reimbursement rates have steadily decreased in the last 20 years," says Ziemann. "This makes customers much more price aware than they were in the past." So it's more important than ever that customers are getting value for their investment in Holter equipment.
New cardiac testing devices continue to be developed, but Ziemann questions whether they provide the value that Holter monitors such as NEMon's provide. Ziemann cites the example of the Mobile Cardiac Outpatient Telemetry (MCOT) cardiac monitor, which a patient wears for a month while the device transmits data wirelessly to a monitoring center. "Your insurance company is paying $1,500 for data that is not that much better than Holter monitoring," he says.
The more things change, they more they stay the same. Holter is not a "sexy" new technology — it's a steady, reliable technology that cardiologists and other physicians depend on. The tried-and-true Holter technology coupled with personal attention to customers, like that provided by NEMon and ALBA Medical, still gives physicians and their patients the best value.
Is your monitoring system outdated? Contact NEMon to learn more about the outstanding value our Holter products offer — by email at
info@nemon.com
, or call us toll-free at 866-346-5837 option 2 or 978-461-3992.