Add Home Sleep Apnea Monitoring to Your Practice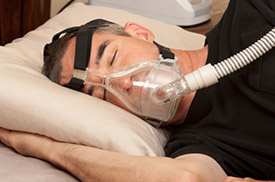 Imagine being fast asleep when suddenly, you stop breathing for around 20 to 40 seconds, despite your unconscious efforts to breathe. Now imagine that happening over and over, all night. When you wake up, you suffer fatigue and even have a higher risk of conditions such as diabetes, high blood pressure, heart disease, and obesity.
Around 20 million people in the U.S. experience this condition every night — and many never even know it's happening. It's called obstructive sleep apnea syndrome (OSAS), and it often goes undiagnosed.
A new tool for physicians
For physicians who suspect their patients may have OSAS, a portable Holter oximeter product, such as NEMon's DR181 OxyHolter Recorder with LX Sleep software, can be a useful tool in screening patients for sleep apnea at home.
Holter-oximetry technology was originally used for assessing respiratory therapy by monitoring how much oxygen patients need during their daily activities. Although it's still used for this purpose, it now serves double duty as a convenient and economical diagnostic tool for the most common form of sleep apnea — obstructive sleep apnea (OSA). For simple screening for OSA, NEMon's OxyHolter with LX Sleep software is far more convenient and equally accurate as traditional polysomnography (PSG) tools.
Research has shown that combined use of Holter ECG monitoring and oximetry, as is provided by the DR181 OxyHolter, provides a highly reliable, extremely accurate, non-invasive method for diagnosing OSAS.
But that's just the beginning of the many benefits of using OxyHolter technology as a sleep apnea diagnostic tool. For example:
Medicare and most private insurers reimburse for home sleep studies (called out-of-center sleep testing (OCST)),
patients don't have to wait to schedule a lab study,
compliance is much higher and easier than going to a sleep lab, and
the cost is lower than other diagnostic methods.
The NEMon OxyHolter
NEMon's DR181 OxyHolter, which is the latest version of the reliable and popular DR180 series, significantly increases your ability to isolate or correlate cardiac and pulmonary issues.
Check out some of its features:
Meets the EC-38 standard
Has an ergonomic design
Offers proven reliability
Lets you maximize Holter reimbursements
Has shielded cables that reduce artifact
Provides pacemaker detection
Includes foreign language interfaces
Offers an industry-leading three-year warranty
See the DR181 OxyHolter data sheet for the complete list of features.
You can analyze OxyHolter data using either NEMon's LX Analysis software alone, or with the optional LX Sleep add-in, which automates the calculation of the Apnea-Hypopnea Index (AHI) and generates specific sleep reports.
An essential diagnostic tool
OSAS is a significant health problem that often goes undiagnosed. This technology provides a convenient, cost-effective option that, by enabling diagnosis of sleep apnea, helps doctors lower their patients' risk of heart attack, stroke, and other conditions, and can even help counteract insomnia.
Investing in a Holter oximeter product such as NEMon's OxyHolter provides a valuable addition to your diagnostic toolkit that makes unattended home sleep studies possible for your patients.
We're looking to you, our user community, to help NEMon define the new or modified functionality that you'd like to see in our products. Tell us by email at
info@nemon.com
or call us at
978-461-3992
or toll-free at
866-346-5837
option 2 (U.S. and Canada).
For more information about NorthEast Monitoring's products and how we can provide you with the best monitoring systems for your business, view this short movie.