What Type of Holter Report Do You Need?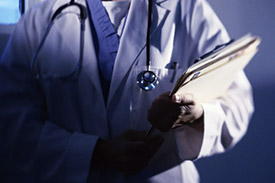 Ever tried on a t-shirt marked "one size fits all"? It probably didn't fit very well, did it? That's because "one size fits all" is usually just code for "one size that's poorly suited for most" — and Holter analysis reports are no exception.
Hunting through a Holter report for the information you need is a waste of time. NEMon realizes that our customers need Holter analysis reports that are suited to their particular needs, even if those needs change day to day. That's why our LX Analysis software provides four automated report styles that are easy to switch between, each of which presents the same patient monitoring data in a different format to ensure ease of analysis and review.
Reports are available in each of the levels: BASIC, ENHANCED, ENHANCED PLUS, and PRO software levels, but with increasing flexibility and customization, respectively. Each report, regardless of which format you choose, includes a heading, the patient's information, and general results such as
min/max heart rate,
start time,
total time,
total time analyzed,
summaries of ventricular and supraventricular beats, and
ST segment events.
These general results are presented individually with specific information, but are also factored into summaries and trends to enable the viewer to see both big-picture results and fine details as needed. And if certain modules don't pertain to a specific patient, it's easy to turn them on or off, simplifying your report view.
Which style suits you?
The variety of report styles appeal to different needs. Which of these four automated report styles best suits you and your patients?
Concise style — In concise style, information is presented in graphs and summary tables. This style also includes RR variability.
Narrative style — In narrative style, paragraphs are provided that describe general, ventricular, and supraventricular results and ST segment data.
Numeric style — In numeric style, report data is presented in tables.
Verbal style — Verbal style presents report data as a concise summary and includes tables. This style also includes RR variability.
We know that each of our customers — not to mention each of your patients — is unique. So why shouldn't your Holter analysis reports reflect that?
View your Holter reports in the way that makes the most sense for you. The freedom to have your choice of report styles is just another feature that makes LX Analysis a great value.
Is your Holter system readily customizable and flexible? Contact NEMon to learn more about the outstanding value our Holter products offer — by email at
info@nemon.com
, or call us toll-free at
866-346-5837
option 2 or
978-461-3992
.