What's Better Than Service? Enthusiastic Service!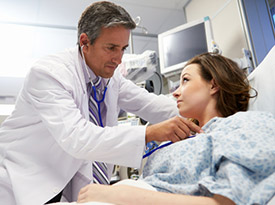 Here at NEMon, we take pride not just in the quality of our services, but in our passion for the industry. We've looked for that same combination of quality and passion in our channel partners — which is what made Cardio Study a natural choice.
How it began
It was 2008. The economic crash had devastated businesses in the U.S. But one man believed that going down with the proverbial "economic ship" was avoidable.
"I wanted to be in a field where quality work truly makes a difference and is appreciated, and is relatively recession-proof," says Philip Murad, President and CEO of Cardio Study. So in September 2008, he began researching business opportunities. And in 2011, he found his recession-proof business.
Murad started Cardio Study, a cardiology health care services provider. He reached out to people in the medical field, sought out the best cardiologists in North America, and of course, looked into Holter monitoring. Dr. Zion Sasson was one of the experts Philip reached out to. Dr. Sasson and Murad shared ideas on how to make Cardio Study a leader in the field and also figure out how an entrepreneur could fit into the industry.
Cardio Study quickly grew into a group of clinics in Ontario, Canada, powered by Murad's passion for his work and the cardiology healthcare industry. Now Cardio Study offers a full suite of cardiology diagnostic services, utilizing a team of six cardiologists with Dr. Sasson as the company's medical director. Cardio Study has recently expanded its services to include Cardio Study USA, launched last July. Both companies provide monitoring services to cardiologists and primary care physicians.
"Cardio Study has a phenomenal team, providing high-quality care that meets the highest standards" Murad says. He adds that they want to bring that quality to both the U.S. and Canadian markets.
NEMon and Cardio Study: a great match
NEMon is proud to call Cardio Study a partner. NEMon's high-quality products and industry reputation are a great fit for Cardio Study's exceptional services.
Cardiologists rely a lot on Holter monitoring, Murad says, so that makes up a large part of Cardio Study's services. The Holter equipment and scanning services are all included in the services that Cardio Study provides its clinic partners. This means the need for reliable, high-quality Holter equipment is a must for Cardio Study.
Murad's enthusiasm for quality services means NEMon's quality products have strong appeal. The DR200/HE Holter and event recorder is a solid, reliable product that Cardio Study is happy to offer to its users. Add its long-term Holter monitoring capabilities into the mix, and it's no wonder the DR200/HE stands out from other products.
Of course, monitoring technology is always evolving. Murad says that both Cardio Study and NEMon intend to continue adapting their offerings to meet the market's demand for smaller, faster monitoring tech that also offers the reliability and quality physicians have come to expect from both NEMon's product line and Cardio Study's services.
Is your monitoring system outdated? Contact NEMon to learn more about the outstanding value our Holter products offer — by email at
info@nemon.com
, or call us toll-free at 866-346-5837 option 2 or 978-461-3992.