Critical Events: It's Not Just a Newsletter!
One of the Clear Technical Advantages (CTAs) that NEMon users have is the Critical Events tabulation. We hear from our user community regularly that this is one of the most useful features they have seen and the first step they make in the process of producing a complete Holter study.
The Critical Events table is a feature in all levels of Holter LX Analysis software except BASIC. Think of it as the "table of contents" for your Holter study. With one quick look at that primary screen display after analyzing the Holter data, users can often quickly tell if the study needs further refinement or if the study has already adequately provided the necessary diagnostic clues.
Here is a screen shot showing the Critical Events table in the upper left-hand spot. In it, you can see the category names and the number of beats that fell into that Critical Event category.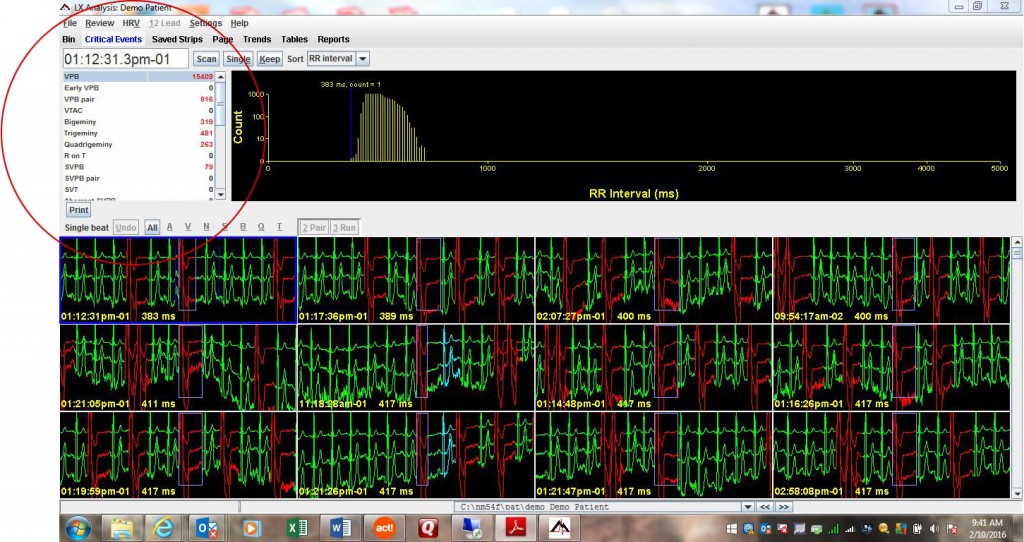 This Critical Events view of the information is so important that many users designate it as the default screen to be viewed upon completion of each analysis run. To set that preference, go to File > Preferences and see the drop down list to the right-hand side of After analysis show. See the next screen shot with the Critical Events selection highlighted as the third option in the drop-down list.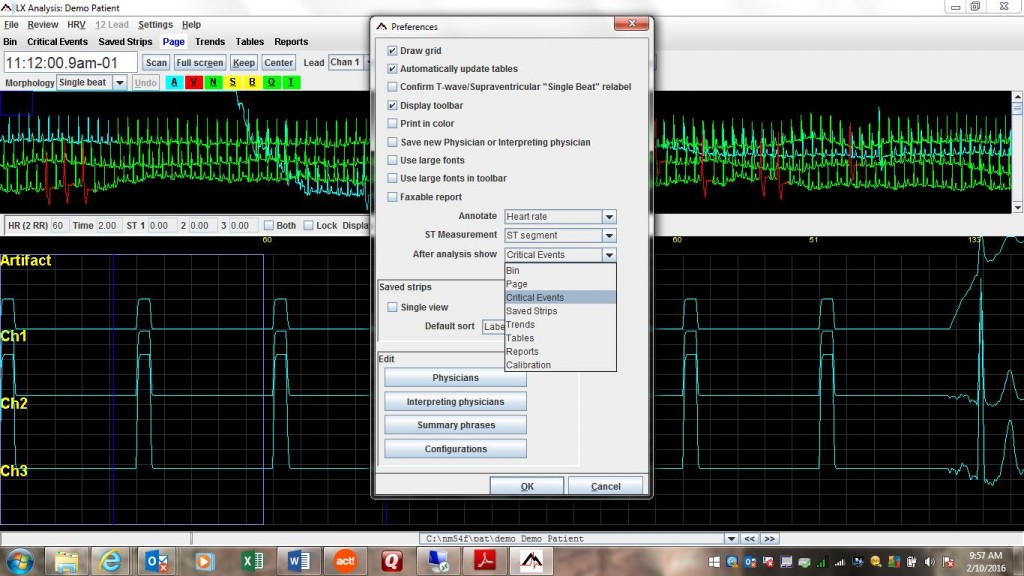 So what are the categories into which the beats are sorted in the Critical Events table? Great question — and here is the list of categories:
| VPB | SVT | Diary or event |
| --- | --- | --- |
| Early VPB | Aberrant SVPB | Irregular RR |
| VTAC | ST event | Questionable |
| Bigeminy | Pause | HR strips |
| Trigeminy | V. paced | Saved strips |
| Quadrigeminy | A. paced | Artifact |
| R on T | AV. paced | Normal |
| SVPB | Sense failure | All |
| SVPB pair | Inhibition | |
Having the beats automatically grouped into these categories is an enormous time-saver and a great point from which to launch your work on a Holter study. In short, Critical Events may be a smart place to begin your work.
We're looking to you, our user community, to help NEMon define the new or modified functionality that you'd like to see in our products. Tell us by email at
info@nemon.com
, or call us at 978-461-3992 or toll-free at 866-346-5837, option 2 (U.S. and Canada).
Feel free to send us a worded description of what you'd like to see or even a marked-up screen shot! We're "all ears" when it comes to improving Holter's Event recorders and all the analysis software that goes with them. It is our passion. At NEMon, we're always "advancing Holter technology."
For more information about products and how we can provide you with the best monitoring systems for your business, visit NorthEast Monitoring's website.