NEMon Joined U.S. Companies at Arab Health 2016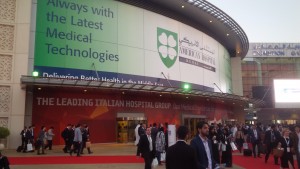 In January 2016, NEMon participated in the Arab Health conference held in Dubai, United Arab Emirates. NEMon was one of the 320-plus companies that were part of the U.S. Pavilion, a delegation of companies that occupied approximately 1 ½ exhibit halls out of the eight or so halls that comprised the entire exposition at the Dubai Convention and Exhibition Centre. It was the largest delegation from the USA ever to attend this conference. The contingent represented nearly 10% of the total show, and the theme for participating companies was "Ask America First."
The following is the pre-exhibition news release from the organizer of the U.S. Pavilion, Kallman Worldwide Inc.
DUBAI, United Arab Emirates, and WALDWICK, N.J. (Jan. 12, 2015) — When Arab Health 2016, the world's second-largest healthcare congress and exhibition, opens Jan. 25 at the Dubai International Convention and Exhibition Centre, the United States of America will have its largest presence ever at this annual trade event. With more than 320 exhibitors, the size of the American contingent is an indicator of how important the region is to the U.S. healthcare business and how interested the region is in working with U.S. companies to build a world-class model for healthcare in the UAE. The U.S. presence at Arab Health, featuring industry-leading companies such as GE Healthcare, Becton Dickinson, Hill-Rom, and Dell, numerous hospitals, medical device and equipment suppliers, over-the-counter (OTC) innovators, and state economic development groups, is organized by Kallman Worldwide Inc. in coordination with U.S. government agencies, including the Department of Commerce. For a complete list of U.S. companies at Arab Health, visit kallman.com/arab-health, the searchable online directory.

Kallman is celebrating its 20th year leading the United States at Arab Health. The centerpiece of the national effort is the nearly 3,500-square-meter (gross) U.S. International Pavilion, a destination for buyers looking for an efficient way to meet a critical mass of U.S. suppliers and an on-site business hub for U.S. exhibitors looking to maximize their exposure and impact at the event.

"When U.S. companies commit to exhibit at Arab Health, they're saying they believe in the power of this event to attract real business prospects and customers, and the steady growth and diversification of this event speaks for itself," said Kallman Worldwide President and CEO Tom Kallman. "As the organizer of the U.S. International Pavilion since 1996, our team is proud to help our exhibitors capitalize on this influential international business opportunity — and the extraordinary level of investment in medical infrastructure and innovation in the UAE — to grow their share of the regional marketplace and further extend our nation's worldwide healthcare leadership."

More than 250 of the American companies participating in Arab Health are exhibiting in the U.S. International Pavilion — 75 of them for the first time in the UAE. They range from publicly traded stalwarts to privately held small and medium-sized enterprises (SMEs), all looking to initiate or strengthen international partnerships. For example:

More than 10 U.S. hospital and clinical groups are exhibiting, continuing a trend to exchange medical knowledge and expertise with their counterparts in the UAE toward the goal of improving patient care in both countries.
Medical device manufacturers are promoting a wide range of equipment to be specified into hospitals, clinics, and treatment facilities.
OTC suppliers are leveraging their contracts with big U.S. retailers to secure shelf space with overseas chains.
State economic development groups are promoting state-based suppliers as well as the opportunity for overseas healthcare providers to operate in their states.

"Arab Health gathers healthcare professionals from all across the globe to learn from each other and support efforts to advance the fields of medicine, technology, and patient care," said Sherif Saad, M.D., MBA, CEO, and Medical Director of Pavilion exhibitor Minnesota International Medicine (Booth 1F19). "It is a welcoming atmosphere where individuals share information and ideas which will strengthen the international community."

In addition to organizing the national Pavilion, Kallman Worldwide is promoting all U.S. exhibitors with its "Ask America First" advocacy campaign. The message will be placed prominently on-site, integrated into hospitality and VIP events during the show, and promoted in social media (follow on Twitter @kallmanEWC).

"The United States is the world's biggest healthcare supplier, but that's no guarantee that buyers will look to work with U.S. companies over others," said Kallman. "As the organizer of the U.S. presence at Arab Health, we have a responsibility to advocate not only for our exhibitors, but for our nation in this highly competitive global marketplace. We want every visitor to 'Ask America first' at Arab Health 2016."
Is your monitoring system outdated? To learn more about the outstanding value our Holter products offer, contact NEMon by email at
info@nemon.com
or call us toll-free at 866-346-5837, option 2 (U.S. and Canada), or 978-461-3992.