An Interview with Scott Winick, Sales and Marketing Professional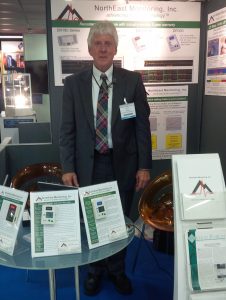 Sales and marketing are essential components to help drive a company forward. Though they are two very different skill sets, sales and marketing are often combined into a single job description. Luckily, NEMon sales and marketing efforts have been led by someone who understands both — as well as engineering.
Scott Winick has been working with NEMon since February 2006. Scott knew NEMon Owner and Founder Mark Hubelbank for 20-plus years through their mutual hobby: aviation. After a serendipitous mishap related to skiing, Scott had some downtime to recover but also to put his energy elsewhere. Mark asked if Scott would be interested in giving NEMon a hand for a short time.
"That six-month trial has morphed into 10 years now," says Scott. "You can't make this stuff up."
STEM to sales
NEMon was a great fit for Scott, as he understands selling technology well.
"My career in sales began with design and field engineering work. It was a long, slow evolution from my first love: electrical engineering," says Scott, "to sales and marketing. Specifically, I'm a very technical salesperson who may one day grow up to be a very technical marketing person."
After graduating from Tufts University with a Bachelor of Science in Electrical Engineering and attending Northeastern University in both graduate Electrical Engineering and Masters of Business Administration programs, Scott began working as an electrical design and field project engineer. As a field project engineer, he traveled the world installing long-range navigation equipment for a variety of clients, ranging from civilian to military applications. Subsequent endeavors included working with electronic design automation (EDA), computer-aided engineering (CAE), automatic test equipment (ATE), and semiconductor manufacturing.
"Of note," says Scott, "In the early part of my career, I was able to travel the world and use my engineering background in the field, later had the opportunity to develop one of the earliest dynamic functional test programs for the 'new' IBM personal computer motherboard in the early 1980s, and, just before joining NEMon, work in the semiconductor (ASIC) business, which is, without doubt, one of the most demanding and complex endeavors done by human beings on the planet — bar none!"
His success is built upon his technical experience as well as a willingness to listen to what customers need.
"General principles are what guide me," says Scott. "Solution selling is key. Best advice: Listen twice as much as you speak. Earn the right to ask questions by providing value. The best position for a salesperson to be in is that of a trusted advisor to his clients."
Creating the life you love
Transitioning from engineering to medical and cardiology sales was a welcome, interesting experience for Scott.
"It gave me an opportunity to apply general principles of sales and sales management in a new environment," says Scott. "I enjoy the role of being an individual contributor, and NEMon provides the perfect environment for my family and me."
An avid learner, work-life balance is important to Scott and has inspired him to pursue many diverse avenues of growth.
"Along the way, I owned a laundromat or two, taught skiing, played rugby, baseball, and soccer, ran tin-man triathlons, learned to fly planes in 1982, and — of course — got married to a marvelous woman and tried to stay out of the way while she raised a family of three kids."
Through his many personal achievements and NEMon accomplishments, Scott remains humble.
"In terms of success in business, to the extent that I've had any, it can be attributed to working with (or attracting) talented, honest people who share a vision to achieve a larger goal. The creator of that vision and the individual contributions to that goal are secondary," Scott says. "It's that simple."
At NEMon, we've put together a talented team to provide the solutions you need.
Contact us
to learn more about the outstanding value our Holter products offer by email at
info@nemon.com
, or call us at
978-461-3992
or toll-free at
866-346-5837
, option 2 (U.S. and Canada).