Launch an Online Tech Support Session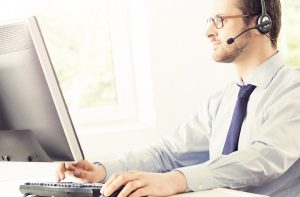 Sometimes, the most effective way to resolve a software question or demonstrate a feature is for us to "share" your computer, so that we can see what you see. It often saves a lot of email and voicemail back and forth. We have automated the process by which you can allow our support staff to briefly log onto your system. We put an icon on one of our web pages that will simply and easily launch the support session. To the left is the "Click for Quick Support" icon and below are instructions for launching an online session.
Using an internet browser, go to NEMon.com.
In the left-hand vertical bar, click on "Technical Support."
Click on the blue button, "Click for Quick Support".
If you see a message asking you whether to SAVE or RUN, please choose RUN.
In Google Chrome, you will see a download tab in the lower left-hand corner. When this Support applet has downloaded, 'click" on the tab to run the applet and to proceed.
In Mozilla Firefox, you'll see a message about downloading the Support applet. Follow the instructions to allow the download, and when complete, click on the download arrow in the upper right-hand side of the tool bar to see and run the applet.
In IE, you will see a message asking permission to Run or Save the Support applet. Your choice, but Run is faster.
In a short time — maybe 1 minute, depending on your network and computer settings — a message will pop up with your MEETING ID.
Tell the Support person/presenter/host the number of your MEETING ID.
Now a question for you, our readers and users. How valuable would an online, real-time "Chat" capability be to you? NEMon is currently re-vamping its web site (more on that in the upcoming issue) and an online, real-time "Chat" function is one feature up for consideration.
Contact us to learn more about updating firmware.
Have new features that you'd like to see in our Holter LX Analysis software? Contact us by email at
info@nemon.com
, or call us toll-free at 866-346-5837 option 2 or 978-461-3992.